BEST Open Car Trailer, ATC All Aluminum Frame, Aluminum Floor.
ATC Aluminum Trailer Company Brand Open Car Trailer IN STOCK our ID # 209164
SPECIAL PROMOTIONAL PRICING our a VERY limited number of units at this old pricing.
Model "CH-X" the premium ATC car trailer , this is NOT the "CH"economy model.
81″ wide between fenders, 18 ft long deck, beavertail for easy loading, 7 ft aluminum loading ramps,
7,700 lb GVWR , empty weight 1,462 lbs , payload 6,265lbs.
Provision for storage of an Optional 3rd ramp ( if someone wants to load a trike) .
Drop down ramp storage tray makes access to ramps from rear convenient, and easy.
Ramps can also hook on to side load the trailer . Quads , Motorcycle , etc.
Unique anti-twist cross brace framing under heavy duty extruded trailer deck.
ATC Model OCHAB8518+0-2T3.5K
AXLE (2) 3500# – TORSION – EZ LUBE HUBS – ELECTRIC BRAKES
ALL TUBE CONSTRUCTION
COUPLER – A-FRAME – 2-5/16″ – 10,000# rated
LIGHT – TAILLIGHT – LED – 12V
LIGHT – CLEARANCE – LED – 12V
TRUCK PLUG – 7 WAY RV Type
FENDERS – ALUMINUM
(4) STEP FENDER SUPPORT WITH TRACTION TAPE
FLOOR DESIGN – BEAVERTAIL
FLOORING – ALUMINUM – EXTRUDED
FRAME – FULL PERIMETER – ALUMINUM
FRONT DESIGN – FLAT
JACK – TONGUE – TOP WIND – 5000# – ZINC
FRONT RAIL – 6″
RAMP – 84″ 2 each standard , 3rd ramp available as an option at extra cost.
ENCLOSED RAMP STORAGE BOX – LOCKING – SPACE FOR THIRD RAMP
FULL PERIMETER SIDE LOADING AND TIE DOWN RAIL
D-RINGS – 5000# – RECESSED 4 ea
DECK WIDTH – 82″
EXTERIOR WIDTH outside fender to fender – 102"
OPTIONS
ST205/75R15/LRD – RADIAL TIRE ON ALUMINUM WHEEL 4 ea $396 OPT
TOTALS
Subtotal $6,149.00 plus shipping $250.00 = $6,399.00 Regular Price , ONE unit only $5,795.00 with this ad !
( BTW we know other dealers sell this trailer for $6,400.00 discounted ! ) this is a great Special Offer !
**NOTE: $5,750 price is base trailer ONLY. Some Photos show custom additional options: stoneguard/ airdam, third ramp,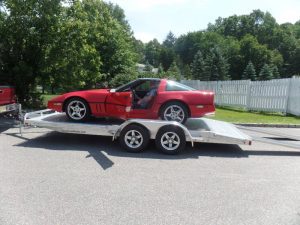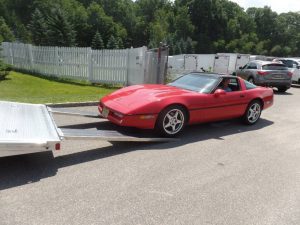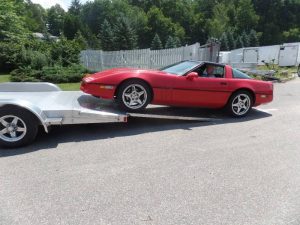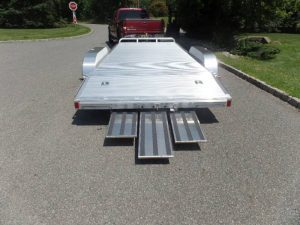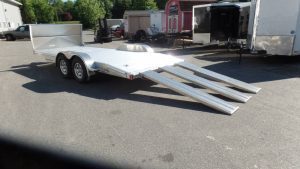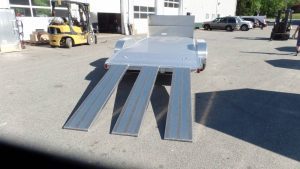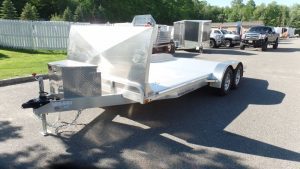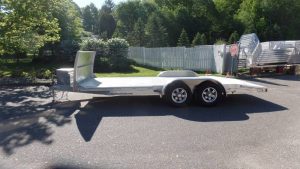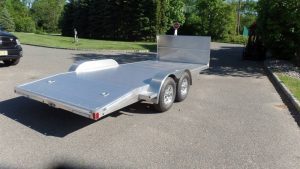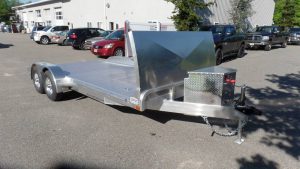 storage box, spare tire, tire rack available, tongue storage box, electric winch, tie down straps, tie down e track or extra d rings ALL EXTRA items we can add here. This trailer available in 16 ft, 18ft, and 20 ft lengths, and 7,000lb or 9,990 lb GVWR models. Call to discuss your needs, and check current inventory, and pricing.