6X12 V nose Enclosed Trailer, 6'6″ interior height, 2,990 GVWR, Ramp ID#8333
6X12  Enclosed Cargo Trailer, 6.5 ft. int. ht. 2,990 GVWR. Ramp #008339
Haul About  Brand Model CGR612SA
2,990 GVWR, 1,230 lbs. empty weight
Payload Rated at 1,760 lbs. 
Ramp Door on Back with Spring Assist, and Extension Flap on Ramp
Side Door with Cam Bar Latch
Upgraded Model with 16" ON Center Framing, Floor, Walls and Roof
Pair of Side wall Scoop Vents
LED Exterior Taillights and Marker Lights
Smooth Aluminum  Fenders, )
Tires are ST205/75R15  , 15″ Radial tires on 5 bolt Rims.
2" Ball Coupler , 4 flat trailer plug.
Our ID # 008333  White Screw-less sides. 
other colors and sizes available.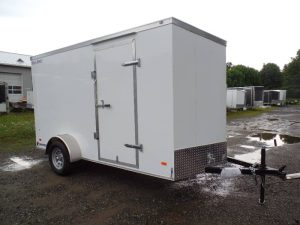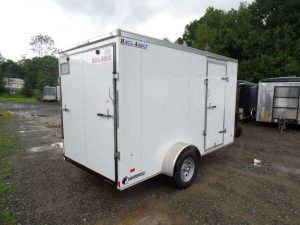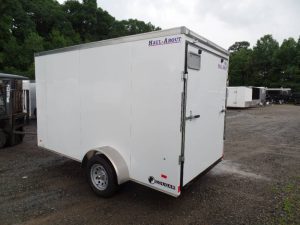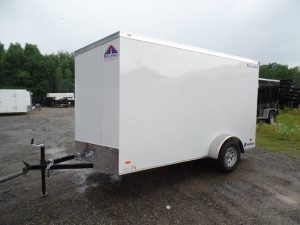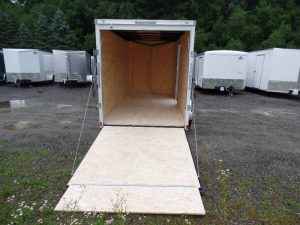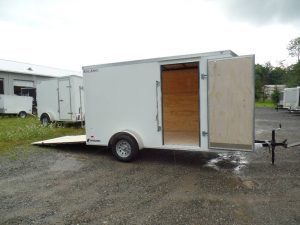 less Exterior
, price
*not responsible for typographical errors, manufacturer reserves the right to change specifications at any time.
trailers are what they are at time of purchase.