GALLERY SAMPLE 8.5X20 9,990GVW HD Landscape Enclosed
BEST BUILT LANDSCAPE TRAILER ! 1 NEW in stock on 1-7-19 for immediate pick up! Call for availability it changes hourly!
1. AMH Enclosed Landscape 8.5X20 AFX8520TA3 Red Exterior ID # 68130 "9,990#GVWR Heavy duty factory landscape pkg, Patented Tapered Ramp ,, 12″" OC floor, 16″" OC walls and roof, 60″" triple tongue, bolt on coupler , LED lts. Side vents," plus upgraded 8,000 lb bolt on tongue jack with drop foot. And Interior Shelves and Landscaper Racks from SnapRack.com 2 – adjustable shelves in front, 3 place string trimmer rack, 15 ft of E track, 5 rake and shovel hooks, and 5 small U hooks that quick snap in and out of the E track., spare tire on 6 bolt rim ,spare tire e track mount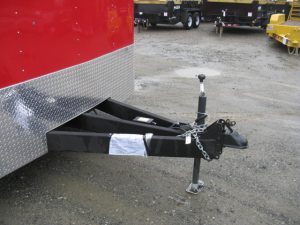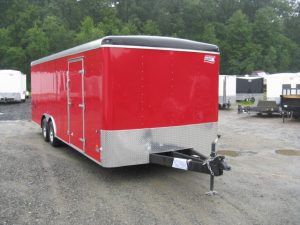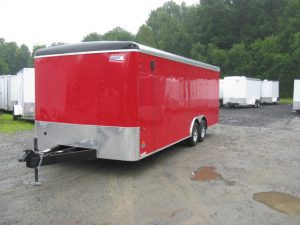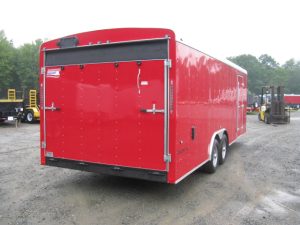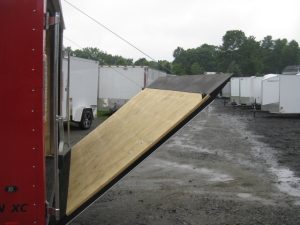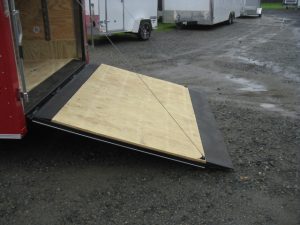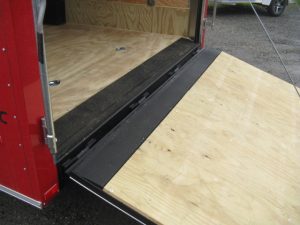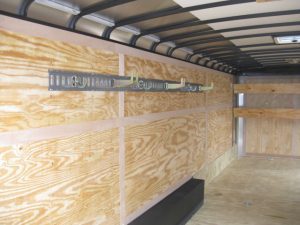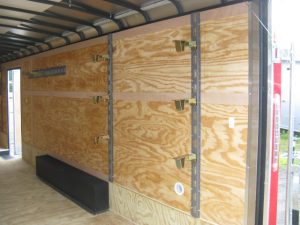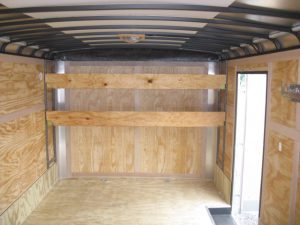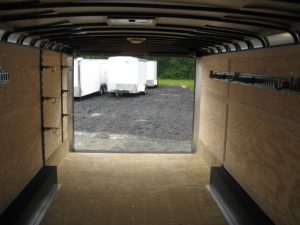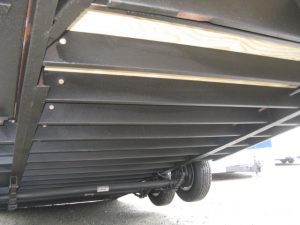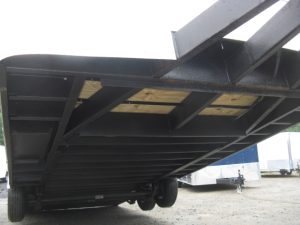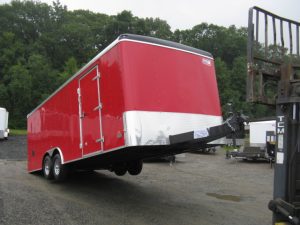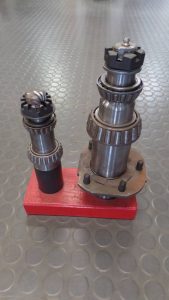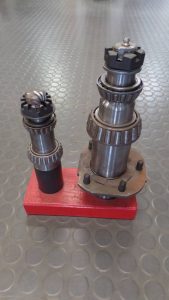 MORE TRAILERS ON THE WAY ! CALL TO SEE WHEN THEY ARE ARRIVING! email sales@traileroutlet.com for current pricing and availability
THIS IS A BIT LONG, BUT WORTH READING IF YOU ARE THINKING ABOUT A NEW ENCLOSED LANDSCAPE TRAILER !
A LOT OF THOUGHT , AND MULTIPLE PATENTS ARE AT WORK HERE !
FINANCING AVAILABLE to qualified applicants ON NEW TRAILERS ONLY *.
1. The Specially designed Landscape Model Trailers in the photos attached have a special PATENTED tapered ramp door , no flap to need to bend over, and flip out, no flap to break. * Patent #D736,676S
2.These trailers come in 7,000 lb GVWR , and 9,990 lb GVWR , as well as 12,000 , 14,000 and 16,000 lb GVWR ratings. I included a photo of the axle spindles, the difference in the size of the spindle, axle, brakes, and tires is substantial. It is MUCH better to upgrade to the 9,990 lb model, which also upgrades the tires from ST205/75R15 to the ST225/75R15 tires, which are standard on the 9,990 lb model . The TA2 model which is 7,000 lb GVWR comes standard with ST205/75R15 tires. By the time you upgrade the tires, it is not that much more to get the bigger better axles. The size of the wheel bearings is like comparing bearings in a Ford Ranger Pickup to those in an F350 , you will have less maintenance issues, and less downtime. Also the brakes go from 10″ up to 12″. for the full upgrade,
3. The 7,000 lb model in an 8 by 16 ft size weighs approx 2,500 lbs empty, the very top payload is 4,500 lbs. With the bigger axles the 9,990 lb GVWR trailer weighs approx 2,800 lbs , which leaves 7,190 lbs of payload . Less chance of bending an axle. The AFX model comes with leaf spring suspension standard with the Bronze package. Torflex axles are an option for $420.00 extra.
4. We have the floors framed on 12″ on center , not 16″ on center , or 24″ on center like a lot of other brands.
5. These trailers can be ordered in about 12 different standard colors at no extra charge.
6. You may want to consider our new exclusive patented tapered ramp door, it eliminates the flap at the end of the ramp door, — one less thing to break. At the top of the ramp, the top of the ramp , and the rear of the floor are tapered, and steel instead of plywood, sprayed with ( Ameriguard ) polyurethane bedliner material.
7. The frame is undercoated with Ziebart Z tech undercoating. the plywood is treated against rot.
8. The new style PATENTED FAST LOAD tapered ramp IS an option.
8. The front walls in many trailers are framed horizontally ( side to side ) , These trailers are framed Vertically ( up and down ) , this is stronger ! ( see photo of frame.)