Enclosed 7X12 Aluminum Frame for 2 motorcycles
Enclosed Trailer for 2 motorcycles
Aluminum Frame
Empty weight 1,380 lbs
7 ft by 12 ft with 6 ft interior height
3,500# GVWR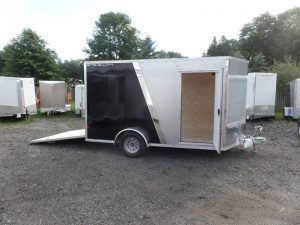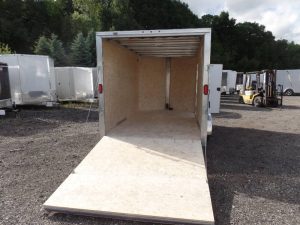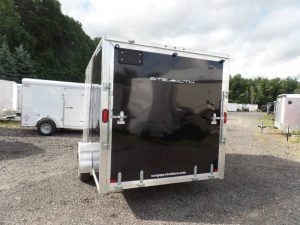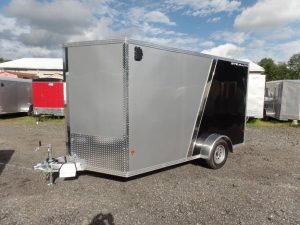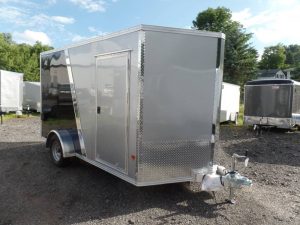 Payload Capacity 2,120lbs
Ramp Door on Back
curbside side door
V-nose
3/8″ walls
one piece alumimum roof
Silver Powder-coated Rims 5 bolt with ST205/75R15 Radial Tires
24″ on center floor framing
Dexter TORFLEX Axle with EZ lube hubs and Electric Brakes
Aluminum Tube construction, wall and roof posts
LED lighting
2 Tone Silver/Black Screw-less smooth exterior bonded with 3M Ultra High Bond
stone-guard
Pair of side wall vents
Our ID number 85715 Alcom Brand priced at $5,750.00
We also install options, wheel chocks for motorcycles, tie down rings.
We can install a brake controller in your tow vehicle to operate the electric brakes on this trailer.
Yes, this trailer will carry 2 full dresser motorcycles, No you do not need a 2 axle trailer.
If a tire goes flat the trailer will not fall over, the side with the flat tire will drop about 4 inches ( the height of the sidewall of the trailer,)
We can get you a 2 axle trailer, but you will just be wearing out an extra set of tires, bearings, brakes, etc.
Call our trailer experts to determine which trailer and options are correct for you.